Rodney Booth Band and Society Orchestra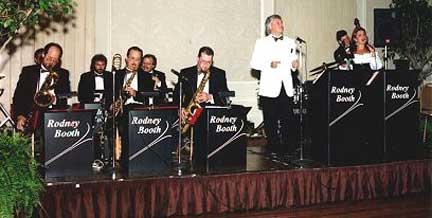 Rodney Booth has been an active professional musician for over 27 years. A native of El Pasa, Texas, he began his professional career at age sixteen as a trumpet player in his father's bands. He received his degree in Jazz Studies at the University of North Texas and was a student of Don "Jake" Jacoby. Rodney was a member of the renowned North Texas State 1 o'clock Lab Band.
Rodney is very active both vocally and instrumentally in studio and commerical recordings. He can be heard on national commercials for Fina Corporation, Texaco, McDonald's Corporation, Domino's. Miller Brewing Company and Chevrolet. His various bands have been chosen to perform for companies such as Exxon, the Zales Corporation, Gordon's Jewelers, Merle Norman Company and Cartier's Jewelers. The Rodney Booth Big Band and his seven piece dance band are in demand for weddings, private and corporate events and award shows throughout the area.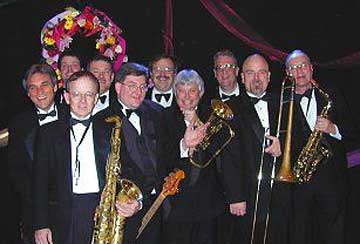 "I was very impresses with how well Rodney worked with us for getting our first dance to work out"
----- Beth, (bride)
Dance Band Partial Song List
I'M AN OLD COWHAND
SAN ANTONIO ROSE
SHE DON'T KNOW SHE'S BEAUTIFUL
THE CHAIR
THE COWBOY RIDES AWAY
THE FIREMAN
THE HEART WON'T LIE
WALKIN AFTER MIDNIGHT
YOU WERE ALWAYS ON MY MIND
BUTTERFLY KISSES
GOOD WOMAN GOOD MAN
LETS GIVE THEM SOMETHING TO TALK ABOUT
LOST IN THE FIFTIES TONIGHT
AVALON
BILL BAILEY
BOURBON STREET PARADE
FIVE FOOT TWO
ROYAL GARDEN BLUES
SHINE
TIGER RAG
WASHINGTON AND LEE SWING
WAY DOWN YONDER IN NEW ORLEANS
HARMONIKA
HATAKVOH
HAVA NAGILAH
HAVENU SHALOM ALEHEM
KOSATSKI
TO LIFE
ARRIVEDERCI ROMA
MALA FEMMENA
TORNO A SURRIENTO
RANDY'S TUNE
VALDEZ IN THE COUNTRY
WINE LIGHT
COMPADRE PEDRO JUAN
UNIVERSAL
634-5789
AIN'T TOO PROUD TO BEG
BOOGIE ON REGGAE WOMAN
GOIN BACK TO MIAMI
HEARD IT THROUGH THE GRAPEVINE
HIDE NOR HAIR
KNOCK ON WOOD
MIDNIGHT HOUR
MUSTANG SALLY
MY GIRL
RESPECT
SITTIN ON THE DOCK OF THE BAY
SOUL MAN
STAGGER LEE
STEVIE WONDER MEDLEY
SWEET HOME CHICAGO
TWISTIN' THE NIGHT AWAY
USE ME
WHAT I SAY
DANCING IN THE DARK
DAYS OF WINE AND ROSES
DON'T GET AROUND MUCH ANYMORE
FIVE GUYS NAMED MO
HALLELUJAH I JUST LOVE YOU SO
I COULD WRITE A BOOK
IF I WERE A BELL
IS YOU IS OR IS YOU AIN'T
IT HAD TO BE YOU
IT'S ONLY A PAPER MOON
JUST A GIGALO
JUST IN TIME
JUST THE WAY YOU LOOK TONIGHT
KANSAS CITY
LIKE SOMEONE IN LOVE
LITTLE GIRL BLUE
LOOK FOR THE SILVER LINING
MACK THE KNIFE
NEW YORK NEW YORK
NIGHT AND DAY
ON A CLEAR DAY
OUR LOVE IS HERE TO STAY
SATIN DOLL
SHE'S MY HONEY CHILD
SOON
SUGAR
TAKING A CHANCE ON LOVE
THAT CHICKS TOO YOUNG TO FRY
THE ODD COUPLE
THE PUMP
THOU SWELL
TIME AFTER TIME
WE ARE IN LOVE
A TIME FOR LOVE
AS TIME GOES BY
DON'T WORRY ABOUT ME
ENBRACEABLE YOU
GEORGIA
I THOUGHT ABOUT YOU
I'VE GOT A CRUSH ON YOU
MAKE SOMEONE HAPPY
MISTY
MOONLIGHT IN VERMONT
MY FUNNY VALENTINE
SAN FRANCISCO
SENTIMENTAL REASONS
SEPTEMBER IN THE RAIN
SKYLARK
STARDUST
THE NEARNESS OF YOU
THE SUMMER KNOWS
THIS LOVE OF MINE
UNFORGETABLE
WHAT ARE YOU DOING ... OF YOUR LIFE
WHO CAN I TURN TO
YOU DON'T KNOW ME
IN THE MOOD
OPUS ONE
PENNSYLVANIA 6-5000
STRING OF PEARLS
UNDECIDED
SPANISH EYES
SWAY
CORCOVADO
DESAFINADO
GENTLE RAIN
MASH THEME
MEDITATION
ORPHEUS
QUIET NIGHTS
RECADO
THE SHADOW OF YOUR SMILE
WATCH WHAT HAPPENS
WAVE
WHAT A DIFFERENC A DAY MAKES
NEVER ON SUNDAY
HERE COMES SANTA CLAUS
I'LL BE HOME FOR CHRISTMAS
LET IT SNOW
MOST WONDERFUL TIME OF THE YEAR
O CHRISTMAS TREE
THE CHRISTMAS SONG
WINTER WONDERLAND
ALL MY EXES LIVE IN TEXAS
ANY TIME
BACK IN THE SADDLE AGAIN
COULD I HAVE THIS DANCE
CRAZY
FOREVER AND EVER, AMEN
HELP ME MAKE IT THROUGH THE NIGHT
I GOT FRIENDS IN LOW PLACES
ROCKIN PNEUMONIA.... BOOGIE WOOGIE FLU
ROCKIN ROBIN
SHAKE, RATTLE, AND ROLL
SHE WAS JUST 17
JAIL HOUSE ROCK
BRAZIL
LITTLE BOAT
ONE NOTE SAMBA
QUANDO, QUANDO
ALWAYS TRUE TO YOU IN MY FASHION
C'EST MAGNIFIQUE
CHEEK TO CHEEK
I GET A KICK OUT OF YOU
I LOVE MY WIFE
IT'S DELOVELY
LOOK OVER THERE
MY PERSONAL PROPERTY
ON THE STREET WHERE YOU LIVE
ONE
STEADY STEADY
THIS COULD BE THE START OF SOMETHING BIG
A WINK AND A SMILE
AIN'T NOBODY HERE BUT US CHICKENS
BEGIN THE BEGUINE
BUT NOT FOR ME
CECILIA
CHANGE PARTNERS
CLOSEST TO THE BONE
WITH A SONG IN MY HEART
YOU DO SOMETHING TO ME
MOON RIVER
TENDERLY
WHAT'LL I DO
WHAT'S GOING ON
PENNSYLVANIA POLKA
100 WAYS
A WHOLE NEW WORLD
AFTER THE LOVIN
ARTHUR'S THEME
AUTOMATIC
BECAUSE YOU LOVE ME
BRICK HOUSE
BROADWAY
BROWN EYED GIRL
CANTELOPE ISLAND
COME IN FROM THE RAIN
CUT THE CAKE
DANCE WITH SOMEBODY
DEJA VU
DIDN'T WE ALMOST HAVE IT ALL
DOWN ON THE BEACH
EVERY LITTLE STEP
EVERYBODY WANTS TO RULE THE WORLD
FREEWAY
GET ON YOUR FEET
GREATEST LOVE OF ALL
HAPPY TO BE STUCK WITH YOU
HAVE I TOLD YOU LATELY
HEAT IS ON - Beverly Hills Cop
HIP TO BE SQUARE
HOW SEET IT IS TO BE LOVED BY YOU
I COULD LOVE YOU LIKE THAT
I ONLY HAVE EYES FOR YOU
I SHOT THE SHERIFF
I SWEAR
I WANT TO THANK YOU
I'LL BE lOVIN' YOU
IF EVER YOU'RE IN MY ARMS AGAIN
ISN'T SHE LOVELY
JUMP
JUST THE WAY YOU ARE
KING OF WISHFULL THINKING
KISSES
LADY IN RED
MORNIN'
MY CHERIE AMOR
MY SPECIAL ANGEL
NEVER GOING TO GIVE YOU UP
OLD TIME ROCK AND ROLL
ON AND ON
ONE MOMENT IN TIME
OPPOSITES ATTRACT
OVERJOYED
PERFECT WORLD
PICK UP THE PIECES
PINK CADILLAC
PLAY THAT FUNKY MUSIC WHITE BOY
PROMISES
RAINDROPS KEEP FALLING ON MY HEAD
RAINY DAYS AND MONDAYS
ROLL WITH IT
SAVE THE BEST FOR LAST
SAVIN ALL MY LOVE
SINCE I FELL FOR YOU
STORMY
SWEETEST TABOO
TEARS IN HEAVEN
THROUGH THE YEARS
UNCHAINED MELODY
UNDER THE BOARDWALK
UP UP AND AWAY
VEHICLE
WHAT A WONDERFULL WORLD
WHAT I DID FOR LOVE
WHEN I FALL IN LOVE
WHO'S HOLDIN DONNA NOW
WHOLE NEW WORLD
WILL IT GO ROUND IN CIRCLES
WIND BENEATH MY WINGS
YESTERDAY
YMCA
YOU GIVE GOOD LOVE
ALL I HAVE TO DO IS DREAM
BEATLES MEDLEY
BLUE SUEDE SHOES
DON'T BE CRUEL
GREAT BALLS OF FIRE
HOUND DOG
MABELLENE
P. S. I LOVE YOU
ROCKIN PNEUMONIA....
YOU MAKE ME FEEL SO YOUNG
YOU TOOK ADVANTAGE OF ME
ADIOS MUCHACHOS
LA COMPASITA (Tango)
AROUND THE WORLD
EMILY
Big Band Partial Song List
(A string section can be added to the larger orchestra)
This could be the start... big
Put on a happy face
Just in time
C'est Magnifique
Crazy Rhythm
If I were a bell
Cheek to Cheek
Dancing in the dark
I love you
This can't be love
Too Close for comfort
Witchcraft
Something's gotta give
Should I
I won't dance
L-o-v-e
Soon
Long ago and far away
All the things you are
Thou swell
You make me feel so young
Tangerine
Love nest
Easy to love
Our love is here to stay
Embraceable you
April in paris
Seems like old times
Melancholyu baby
Make someone happy
Close to you
Second time around
Sentimental journey
I should care
Don't blame me
I have dreamed
Younger than springtime
Girl from Ipanema
Like a lover
Is you Is or is you ain't my baby
Five guys named Mo
Y M C A
Shake your Booty
Like a lover
Night and Day
More and More amor
Teach me tonight
Amor
My wonderful one
Moon river
Around the world
True love
Emily
Misty
Stardust
My foolish heart
Whom can I turn to
Shadow of your smile
Moonlight serenade
San Francisco
As time goes by
Good night medley
New York, New York
One
In the mood
String of Pearls
Kansas City
Raindrops keep fallin on my head
The odd couple
Satin Doll
Deja Vu
Protection
Up, up and away
Tall Hope
Royal Garden Blues
South Rampart St. Parade
Mame
Love Story
You will be my music
Begin the Beguine
Please Release Me
After the Lovin
It Had to Be You
I Could Write a book
Hallelujah
Hallelujah I just love her so
634-5789
Great Balls of fire
Overjoyed
Breakdown
Mornin'
How good it is to be loved by you
Mustang Sally
Jailhouse rock
Since I fell for you
Sitting on the dock of the Bay
One in a million
I feel Good
Hound dog
Soul Man
Hold on I'm comin'
Midnight Hour
4 tops Medley
Play that Funky Music
Jump, Jive and Wail
Celebrate
Down to the night Club
We are Family
Freeway
Beat It
Vehicle
Men in Black
Tearin' up my heart
I Wish
Brickhouse
Perfect World
What you gonna do for me
Knock on Wood
Brown Eyed Girl
Ain't too Proud to Beg
My Girl
Sing a Song
Pick up the Pieces
Mellow Saxophone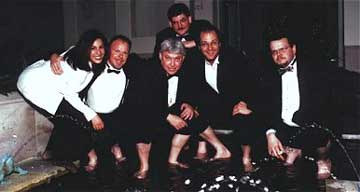 Cooling off after a hard night's work!
Copyright © 2006-2013 Carol Marks Music, Inc.