View Video of The Pink Flamingos:
13 piece, visually rich, musical celebration.
Why The Pink Flamingos For Your Corporate Events?
» Proven Success The Pink Flamingos have attained an unparalleled reputation. 'The Pinks' are synonymous with successful events, innovative performances and friendly service. Discover why the people who do more return engagements than any other act of its kind.
» Custom Designed & Detailed to Your Event The Pink Flamingos contain the knowledge and expertise to achieve your vision. The in-house creative staff works with you so that the performance, costuming, song selections, and timing all come together to insure a successful event.
Who?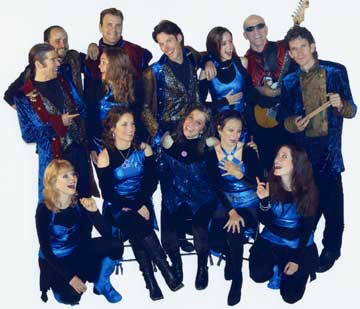 Singers, Dancers, Musicians, Designers, Choreographers, Technicians, and Artists
What?
A Self-Contained Complete Entertainment Package That Works for Single or Multiple Day events. Receptions, Interactive Parties, Shows, Dance Parties, Themed Events
Where?
Special Events, Sales Meetings, Society Balls, Product Launches, Fund Raising Events, Association Conventions, Concerts, Award Banquets, Corporate Meetings