Thanks for stumbling up on the home of the PC Cowboys. We're just a simple band from Texas who are often described as the absolute funniest and amazingly sexiest act on the planet. Okay, nobody's said that yet, but you could be the first.

Meantime, we will abide by our mission statement: To make people laugh till their shorts are damp, drink beer, eat meat and strive to stay at least close to on key.

Just so you know, we're particularly interested in attracting cute and outgoing women, guys who buy us drinks and help us load equipment, and people of any type who have the money to hire us. We've played every place from Willie Nelson's Fourth of July Picnic to the world famous Edinburgh Fringe Festival in Scotland to a durn Shell station in Waller, Texas.

Our guess is you can figure out something in between that would make us cash.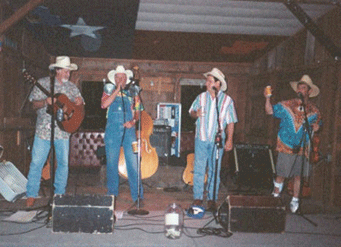 We'd love to play your club, party, business event or whatever. The Boys have done hundreds of corporate gigs all over the southern part of North America. Plus we'll tailor the show to talk about your business or pick on your boss.

And for an extra fee, we can even write a special song for you. Shoot, for the right money, we'll stand next to your nightstand and sing you to sleep. Just leave the liquor cabinet open for us after you nod off.

Give us top-notch swag or bling-bling. We're not like politicians who accept their pay offs under the table. We'll be glad to thank you openly. Food, adult beverages, clothing, professional services, wild game, gimme caps, junior league women, jerky and food are all excellent options.

If all else fails, give the band some loving. Nudge, nudge. Wink, wink. Know what I mean? Hubba-hubba.