MOVING COLORS BAND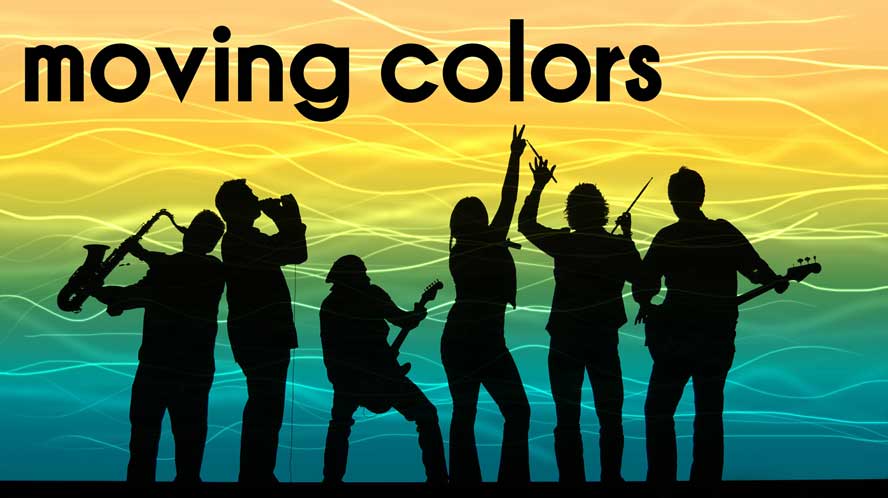 Always in tune with the desires and preferences of their growing loyal following, Moving Colors is a people's band. This group plays danceable, melodic music with precision and solid rhythm.
Veterans of the DFW club circuit, several State Fairs of Texas, Artfest, Montage and West End functions. Good music, good times, good business. If you're looking for the entertainment for your party, corporate affair, reception or next function, and you want the sound tailored to your event, then consider MOVING COLORS!

JUST A SAMPLE OF SONGS from MOVING COLORS BAND - Their perfomance repertoire is vast!

Bad mamma jamma - Karl Karton
Best of my love - The Emotions
Bizarre love triangle - New Order
Boogie oogie - A Taste of Honey
Brickhouse - Commadores
Chain of fools - Aretha Franklin
Clocks - Cold Play
Crazy in love - Beyonce
Dance to the Music - Sly and the Family Stone
Don't be cruel - Bobby Brown
Driven To Tears - The Police
Drop the bomb - The Gap Band
Early in the morning - The Gap Band
Flake - Jack Johnson
Free Ride - Edgar Winter
Funky music - Wild Cherry
Get down tonight - KC and the Sunshine Band
Give it to me baby - Rick James
Heaven - Los Lonely Boys
Hellagood - No Dought
Hey baby - No Dought
Hey ya - The Outkast
House is rockin - Stevie Ray Vaughn
I don't want to be - Gaven Degraw
I love rock-n-roll - Joan Jett
I need to know - Marc Antony
It's your thang - The Isley Brothers
Lady marmalade - Christine Aguilera
Let it whip - The Dazz Band
Life is a hiway - Tom Cochran
Little respect - Erasure
Miss you much - Janet Jackson
One Thing - Finger Eleven
Outta my head - Kylie Minogue
Play - J-lo
Pride and joy - Stevie Ray Vaughn
Respect - Aretha Franklin
Roller coaster - Red Hot Chili Peppers
Room to move - John Mayall
Runaround - Blues Travler
Spin - Dead or Alive
Star - Prince
That's the way - KC and the Sunshine Band
The middle - Jimmy Eat World
This is how we do it - Montell Jordan
To be real - Cheryl Lynn
Too much time on my hands - Styxx
Try again - Aaliyah
Word up - Cameo
AND MANY MORE CONTINUE TO BE ADDED
Contact Carol Marks Music at 972-231-4091 for availability of Moving Colors Band.