Melani Skybell has assembled a group of the area's most gifted musicians, with whom she now entertains at Dallas' hottest clubs, hotels and restaurants. These include The Capitol Grill, The Mansion, The Four Seasons Resort and Club and Texas Stadium. She is also in demand outside of Dallas, having recently performed at special events in Atlanta and Jamaica. As a soloist, her unique interpretation of classic jazz uplifts her audiences with rich vocal nuances and charm.
"Melani & her band were so wonderful! They were exactly the kind of band taht we wanted for our reception & just made it such a fun party! I was also so pleased with how willing they were to do some special songs for us that weren't on their list. It was fabulous!"
----Estee Carel, July 2, 2005
"Agents loved her different selections of music. Her attitude was great."
----Demetria Stewart, GOGO World-Wide Vacations, April 28, 2005
"Melani was delightful and received a number of positive comments from our guests."
----- Amy Harris, bride, February 28, 2004 Wedding
"PERFECT - more than we could have hoped for!"
----- Don Falgoust, groom, March 27, 2004 Wedding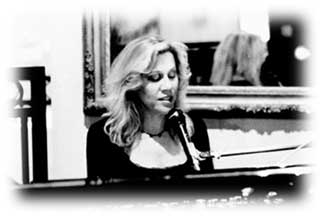 Traditional Jazz...
...in a style all her own!

Whether she is swinging hard on her up tempos, or warming your heart with her intimate ballads, Melani Skybell is an exciting talent. Her musical training is extensive, as is her performance experience and multi-genre skill. Combined with her potential as a composer, Melani Skybell is a rising star. She possesses breakthrough qualities with crossover appeal to all generations of music lovers.
Here is a partial repertoire of Melanie Skybell

Come Fly With Me
Dindi
On A Clear Day
Devil May Care
It Might As Well Be Spring
Gee Baby, Ain't I Good to You
This Can't Be Love
Peel Me A Grape
Imagination
Skylark/Daydream
Like Someone In Love
Papa Loves Mambo
You'd Be So Nice To Come Home To
These Foolish Things
Love Is Here To Stay
Close Your Eyes
Old Devil Moon
Easy To Love
I Love You
No Moon At All
I Love Being Here With You
Do Nothin' Till You Hear From Me
They Can't Take That Away From Me
Through The Years
You'd better love me while you may
Let Me Love You
Wonder Why
I'll be Easy to Find
Come by Sunday
The Lies of Handsome Men
Everything but You
Oh Love, Hast Thou Forsaken Me
You Came a Long Way from St. Louis
(Love's Got Me) In a Lazy Mood
Can't Get Out of This Mood
Sweet Happy Life
What Do You See in Her
You Don't Know What Love Is