Le Freak is the perfect act for whatever occasion you might have that wants intensely UNIQUE, high energy, high quality, danceable entertainment.

Why get the same old Top 40 bands when you could have a SHOW with
"The Greatest Disco Band in the World"?
Le Freak has done every type of event imaginable from corporate parties, weddings, birthdays, private, Debutante' balls, festivals, fraternities and sororities, spelling bee contests, puppet shows.... in every medium including television, film, radio, ... and in every type of element including indoors, outdoors, underwater, in outer space.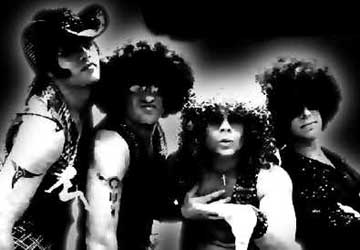 Here are some freaky folks Le Freak has shared the stage with or opened up for : Village People (Awesome guys!)
KC and the Sunshine Band
The Tramps
The Commodores
Mary Wilson
Lisa Loeb
Flock of Seagulls
Vanilla Ice
Starship Patty Loveless (Got freaky with Le Freak on Brickhouse)
Bellamy Brothers
Asleep at the Wheel
Robert Earl Keen
1st Lady Laura Bush (What a great dancer!)
President George W. Bush (Almost... he said, "Sure I'll do the YMCA with you... but it's past my bedtime!")
Dennis Rodman (Still owes us money! ;-)
Michael Dell (Does a mean YMCA!)