Texas female vocalist and Nashville recording artist Kristi Kalyn has performed with well known stars such as: The Dixie Chicks, Mark Chesnutt, The Ace In The Hole Band (George Strait's Band), Gary Stewart, Willie Nelson, Eddy Raven, Exile, Jerry Jeff Walker, Martina McBride, Patty Loveless, Ty Herndon, Michelle Wright, Johnny Duncan, Joe Stampley & Moe Bandy and many more.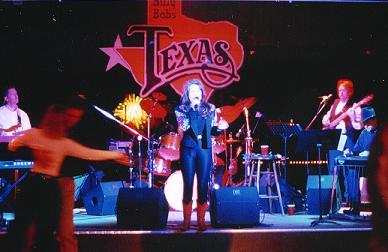 A performer for more than 20 years, Kristi began her career as a young child, singing with her father's band at Country Opry Halls across Texas and Oklahoma. The popular and attractive singer has won numerous awards while performing across Texas and in 1994 was named "Female Vocalist of the Year" by the Cross-Timbers Country Music Metroplex Association.
| | |
| --- | --- |
| | |
| Original Demo | "From This Moment" |
View Kristi's Video
In 1995 Kristi formed her own band "Texas Lightning" and was soon discovered by Blue Star Productions of Nashville, TN. Blue Star Productions quickly signed Kristi to be the opening act for country music artist Eddy Raven. While touring with Eddy Raven, Blue Star Productions in conjunction with Sony Recording produced Kristi's first video while she was performing at Caravan of Dreams in Fort Worth, TX. As Kristi's popularity grew, Blue Star Productions expanded her performance schedule and Kristi began performing with numerous other artists such as Kitty Wells, Hank Thompson, Johnny Bush, Leon Rausch, Stonewall Jackson, The Lightcrust Doughboys, The Texas Troubadours, Barbara Fairchild and Tommy Alverson.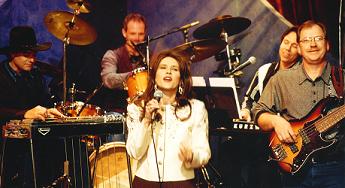 Kristi became an International performer when she was selected to perform in Caracus, Venezuela in conjunction with the Pro-Bull Riding and Professional Rodeo Circuit Association. Kristi was also selected to performed in Panama City, Panama in conjunction with American Airline's celebration of their inaugural non-stop flights from DFW International Airport to Panama City, Panama.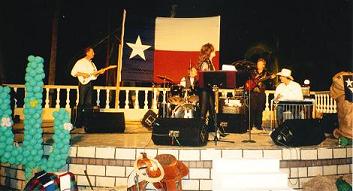 Kristi had her first casting call for the movies when she was selected for the filming of the made for television movie "Dallas-War of The Ewing's" which features the original "Dallas" television cast. Kristi was also cast in the made for television movie "Holiday in Your Heart", based on Leann Rimes rise to stardom.
The year ended with Kristi and her Taste of Texas Band performing the entire week of Christmas at the world's largest honky tonk, "Billy Bob's Texas", located in the historic Fort Worth Stockyards.
Kristi currently performs regularly at corporate shows across the country with JD Monson and "Cactus Wine" and other bands throughout the Dallas/Ft Worth metro area.