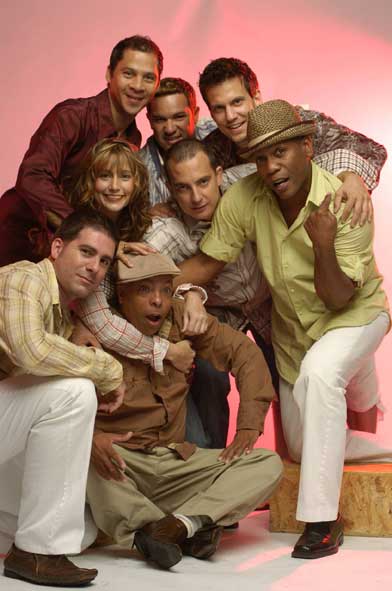 Click Here For Free Quote
Or Call 800-388-4091

Havana NRG continues to be one of the strongest up-and-coming Latin orchestras of the world.
Havana NRG! stands for the New Rhythm Generation of Havana and this very hot 8 piece Salsa-Merengue band has created a major Salsa Shockwave all through Texas!
From the very best Salsa, Merengue, Cumbia, Cha Cha Cha, Son, Timba and Latin Jazz, Havana NRG! does it all in grand fashion. Dallas/Ft. Worth Tropical lovers along with the best talent in the music industry have given Havana NRG! the overwhelming title of the Best Latin Band time and time again......
We have been able to prove that we are indeed "a new breed of Latin band," the New Rhythm Generation that is taking our Cuban roots to new levels of performance. And we owe our great success not only to a magnificent combination of fantastic musicians, but mainly to very supportive audiences everywhere. With your continued support we'll keep growing.
Here's what the national press is saying about Havana NRG!
"Our students & faculty loved the band. They wanted them to come back soon... Thanks, Carol"
Chris Medrano - University of Arkansas, September 16, 2005
"La fusión es su credo. El trabajo es su fe. Y el ritmo es su milagro. Texas es conocida por sus vaqueros, sus barbacoas, el petróleo y ahora por la música tropical latina. ¡Y de la buena! La zona de Dallas ha dado a luz nada menos que a una soberbia orquesta cubana llamada Havana NRG!, compuesta por ocho músicos, entre ellos seis cubanos, un neoyorican y un norteamericano".
—El Nuevo Herald newspaper (Miami), Entertainment
"Texas band Havana NRG! has stardom written all over its upcoming release. This octet grooves to Cuban rhythms from beginning to end, from Camino Al Cielo to Havana City to Con Guiro, Clave y Bongo."
—Nelson Rodriguez, Latin Beat Magazine
"Havana NRG! excels at the inimitable Cuban Salsa sound."
—Mario Tarradell, Dallas Morning News
"Havana NRG's music is a fusion of colorful rhythm and contagious energy that goes through the soul, straight to the feet... so you can dance the night away!"
—Maria Sotolongo, Telemundo-3 & KXAS NBC 5, Dallas
"This Cuban orchestra pumps out contagious Latin rhythms that salseros and others won't be able to resist. Havana NRG has made its mark in Texas and is ready to take on the world."
—Amanda Salinas, WFAA-8, Dallas, Texas
"Havana NRG! is a salsa band based in Texas that is preparing to launch their first full legnth CD with selections such as "Camino al Cielo", "Havana City" and "Con guiro, clave y bongo". Havana NRG! is a passionate act that will soon find the national recognition."
—Nelson Rodriguez, Vista USA National Magazine
"Havana NRG: La nueva era de la salsa en Dallas".
—Douver Ortega, El Sol de Texas
"A new era of Cuban music has arrived."
—Gilbert Cortez, Latino Connection Magazine
"They are the new kids on the block; musically educated masters..."
—Nuestra Salsa Magazine
"Dallas-based octet Havana NRG!, made up mostly of Cuban-born musicians, is a solid Latin dance band." —Punch Shaw, Fort Worth Star Telegram