Fire Eater & Magician - George Sprague
George is one of our favorite strolling magicians. He has done parties for Carol Marks Music doing a magic stand up show or as a strolling magician for more than 15 years. We always have so many people saying how much they enjoyed him. He is prompt, reliable, and always entertaining.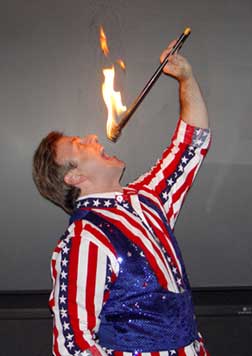 He also does a very entertaining fire eating show. Be sure and check first with your venue to confirm that they will allow this show.
"George the Magician!" FOR ADULTS: STROLLING (or close-up) MAGIC
Laced with a good natured sense of humor, George approaches your group and begins to demonstrate little miracles, such as causing a small hankie to appear out of an empty purse frame, then proceeding to change colors on the hankie, and ultimately making it vanish into thin air! But wait! George causes the magic to happen in your hands! Imagine holding a folded One & Five dollar bills in your closed hand, having the One removed only to open your hand and see the One back, and the five gone! And if you want to see something mind boggling, let George hold one of your rings and watch as he magically has your ring do his bidding! Many more effects, with borrowed objects, coins, cards, all designed to fascinate and entertain.
"George the Magician!" STAND UP Show
Perfect for that after dinner entertainment from small groups to large, George performs amazing magical feats with larger objects. Those scarves looked to be just that - how did that Champaign bottle appear in them? Watch as he brings an audience member on stage, has them hold an empty bag and causes objects to appear in the bag. All done with humorous quips! Water pours out of empty vases, large luxurious rings seem to dissolve into each other and link. And if all that doesn't grab your attention, how about some fire eating? Watch George defy the element of Fire as he lights torches and swallows them - just don't try that at home!
"George the Magician!" FOR CHILDREN: STROLLING MAGIC
Geared for the kiddos, but fun for the adults too! Watch as the little ones explode in laughter and amazement as George causes colorful hankies and balls to do crazy things! And George can also provide balloon animals for the kids, rapidly and expertly contrived right before their very eyes!
"George the Magician!" BIRTHDAY PARTY SHOW
Warning! Make sure the roof is solidly attached. George will have the kids howling, laughing and screaming at his antics. Oh, they might think they catch him at his tricks, but George always turns things into a surprise, such as changing the color of some drawings of rabbits. The birthday child gets a special treat - they get to help George with the magic. But their laugh meter will go off the charts as George tries to get him or her to hold a magic wand that seems to fall apart every time! At the end, all the kids get balloon animals to take home with them.