Doc Flohr's Oktoberfest German Band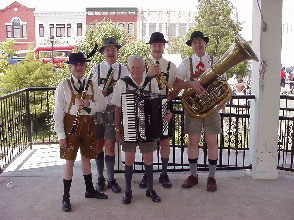 Doc Flohr's Oktoberfest Band has been entertaining audiences in the Dallas-Ft. Worth metroplex for over 15 years. They perform traditional polka Oktoberfest music from "Du, du, leigst mir im Herzen," to "The Chicken Dance." The band is dressed in traditional German Band lederhosen/Bavarian costumes. During the off-season many of the musicians may be seen performing jazz and symphonic music in the area.
Copyright © 2005-2013 Carol Marks Music, Inc.