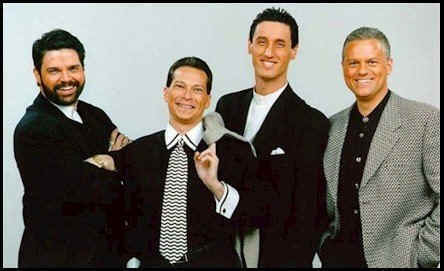 ACOUSTIX, one of America's premier a cappella groups, has been electrifying audiences
around the world since 1990. The foursome has been featured on NBC's
"Today Show", TNN's "Statler Brothers Show," CNN,
two PBS specials, and most recently on ABC's
worldwide Millennium broadcast, "ABC 2000".
ACOUSTIX has shared the stage with The Mormon
Tabernacle Choir,The Dixie Chicks, LeAnn Rimes, Isaac Stern, The Four
Freshmen, The Gatlins,The Canadian Brass, the Atlanta Symphony, and Peter Jennings.