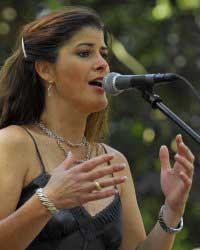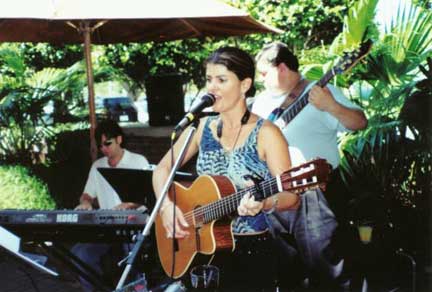 "Professional," "Talent" and "Beautiful" are three descriptives that well define the musical experience of Yelba and the band known as Max Cat. Their repertoire is wonderfully varied, including the music genres most in demand for parties, social events, weddings, and other engagements.

Her Latin background fused with Afro-rhythms, and at the same time Yelba blended this mixture with her love for Jazz, Country, and Rock. With her new band Max Cat, brainchild of guitarist John Carney, Yelba's talent for variety music has come to full fruition. She performs dance music ranging from Rock and Roll, R & B and even Disco, infusing the audience with her high energy, enthusiasm and love for music. A celebration with Yelba and Max Cat assures your guests an evening of fun, laughter, and joy as she induces all to dance and kick back.
"Hello John and Yelba, It was a pleasure meeting you both and having you in my restaurant, but more incredibly awesome was to hear you play at Coconut's, Saturday night once I got off work! That version of Hotel California with the two of you on guitar and Josh on violin was TREMENDO!!! you had all those Magnolia rednecks on their feet...myself included! I hope to see you guys perform many times again. Please keep me posted on your schedule and stop by my restaurant whenever you're at Coconut's again. A new fan"
- Ulises Larramendi / Owner Eden Restaurants July 2008

"It was wonderful there are not enough words to praise her, she brought the party so much alive everyone danced she entertained them so well. We love her!! so yes we will have her again in the future Yelba is just great!! Thank you and have a great week."
- Marta Lentino Wedding April 2008

"We are back from Provence and glad to share with you the remarkable time we had with Yelba and Max Cat. Not only did our guests love listening and dancing to them, but we had much feedback from Hugo's that their other guests were asking after the band all night. Yelba had a great selection of music, every bit of it we enjoyed. The energy and rhythm of the band, the vocals and arrangements were spectacular. They were a great addition to the reception. And my little granddaughter will never forget the shaker Yelba gave her as she played along with the band. Five star from us for sure."
- Dianne Webb Wedding October 2008

"She was FANTASTIC! Thank you so much for the recommendation." To Susie Criner - Gulf Coast Entertainment on Fundraiser from Sonny Garza "Dear Yelba, You have our VOTE for the best band in Houston! We loved your music & atmosphere you helped us create at the wedding. It was great to see so many people...even you...out on the dance floor! God blessed us with an amazing day & you were part of that blessing! With Great Joy"
- Stephanie and Mark Robinson Wedding

"Yelba, back in tiny little Holland, thinking about lasts weeks Wednesday, I would like to thank you for the very swinging evening. It was a really good performance! Nice to have met you and Take Care & Keep Smiling! with Kind regards,"
- Michael C. Harte

"I enjoyed hearing you tonight and look forward to seeing you perform again when I get back to Houston after some travel. I will look for you when I get back to town, I'm off to DC for a few weeks, but will look forward to hearing you at the Red Cat."
- Krist Bender, KMannPhoto

"Hola Mujer Bonita, It was a pleasure to see you sing and perform last night at Sullivan's. I know that it must be difficult to "be on stage" and then try to chat with your many friends at the break times. I enjoyed seeing a woman enjoy doing her work and doing it so well. Thanks for chatting with me. You do look fantastic head to toe. Like the long hair down. When I see you I am at leisure and you are at work. Perhaps one day we can meet and both be at leisure. However, back to where I came in ... I enjoy listening to your music and looking at you. Nothing more is required and anything more would be a gift. I plan on doing my Sunday brunch at La Strada. I need to call and reserve a table on patio as has been booked up the past two times that I just dropped by. ~(later)~ It was a 3 bellini day for me because I stayed so long to enjoy you. Thanks for chatting with me and sharing some time. I had thought of you only singing Latin music so was surprised to hear you sing all the other type music. Enjoyed your range and selection of songs. You look great. You are a busy, busy woman with the performances, running and responding to those 1500 e-mail contacts. Look forward to seeing you again. Besitos mi Amiga,"
- Bob Austin

"Last Saturday night Kelly McGuire (www.kellymcguire.net) put on a benefit show for the marine mammal stranding network at Waterford yacht club. Kelly is an old friend of mine from when he was living on his boat on the same pier I was on. He also participated in a regatta to Tuxpan, Mexico I helped organize. ... I asked Kelly to let Yelba join in for a few songs and she did. After Kelly's show was over we went to Dick Fisher and Mary's Tayana 48 Morning Star. Kelly soon joined us and ... (Yelba) and Kelly then proceeded to play and sing until 5 in the morning. A very very incredible night."
- George H. Clark

"Yelba, Jo and I really enjoyed your music and definitely want to hear more ... Regards," - Bill Thompson "Hello Yelba, Once again, I would like to thank you for a great job last Friday. Everyone really enjoyed you and your band. I'm hoping things will work out for next month as well. Please let me know if you are available. On another note... I have a friend in from London this month. I would like to take her to a restaurant or club where you would be performing. Please let me know of some evenings you might be playing around town. Thanks so much,"
- Marcile Barnett, Houstonian

"Yelba, My name is Alex, I work at the front desk at the Houstonian Club. I was told to email this address to be added to the mailing list. I'm also writing to let you know how much I enjoyed your music, it was a pleasure as well as a blessing to watch you perform at the Houstonian. I'm sure the Houstonian and members would enjoy to doing business in the future." - Alex, Houstonian "Hi Yelba! Thanks for your gracious hospitality (at The River Cafe) last Tuesday evening. You are a wonderful entertainer, and Hannah and I had a great time."
- Linda

"Yelba - I am from Costa Rica and we spoke very briefly. Busy schedule you have. I just wanted to let you know that I enjoyed your performance and would love to see you perform again. Maybe you'll see me at one of your presentations. Wish you the best. Hope to see you soon! PS: You are the best."
- Hector Quiros, Field Services Support

"Yelba, It was such a pleasure for me to sit and listen and watch your perform at La Strada's patio restaurant. I love sitting in the sidewalk cafes in Spain and Latin America and listening to Latin music. As you noticed, I could not help showing how much I enjoyed your music. I sat there with a smile on my face all the time you performed. You are a beautiful woman with a talent for creating ambiance with your music. I look forward to hearing you again soon. Besitos,"
- Robert R. Austin, PE

" Hey Yelba, You guys sounded great last Sat. As I mentioned Saturday, your sound is very tight and you are playing with some of the best musicians in Houston. Keep on rearranging those keys to fit your voice range, keep the key such that you are always in your "sweet spot". Ha ha ha what I mean is where you have the most power. All for now."
- Richard Carranza

"Dear Yelba, On behalf of Reliant Energy, proud sponsor of Rodeo Houston, thank you for attending this year's Rodeo. Sincerely, Your friends at Reliant Energy" - Powered by: 'Catch The Moment.' Copyright 2002. All Rights Reserved. webmaster@optinbusiness.com "There are two sides to Latin artist Yelba. The versatile singer can vamp through merengue numbers at Houston's tropical nightspots. At the city's quieter venues, she pours her heart out on romantic boleros. Indeed, the romantic bolero style best highlights Yelba's vocal strengths. ... But she seems to be doing fine with Latin music. Not only are she and her band, Latin Jazztet, a popular draw at clubs, she also gets airplay. Derroche can be heard on KTSU-FM 90.9, while Piel Canela, gets played on KPFT-FM 90.1. Last year, she performed at the Houston International Festival and at the Texas Jazz Festival in Corpus Christi."
- Ramiro Burr, Copyright 2003 Houston Chronicle

http://www.chron.com/content/chronicle/ae/music/band/Yelvaindex.html "LATINO FIRE: That was the Dolphin Street (dolphinstreet.net) performance ... Wow! ... Featured vocalist Yelba - oh she of splendid voice - gave a spectacular, inspired performance. In the finest Flamenco tradition, she picked her guitar and sang with sizzling emotion, she flashed her dazzling smile, she danced and clapped and whirled her way through an exuberant, high-energy exhibition that repeatedly brought down the jam-packed house; and then she sang a love song with a passion that melted hearts - whew, what a stage presence! Just a few tunes that were audience favorites were "La Vida Es Un Carnaval", "Cumbia del Sol", and "Caballo Viejo". For me, though, the showstopper was "Malagueña Salerosa". This show was big league stuff. Bravo! Bravo! Look for a return engagement." - Jim Shortt, Bay Area Media Service "The Scene" is published by Bay Area Media Service (BAMS).