A Tribute to the music of Stevie Ray Vaughan and Double Trouble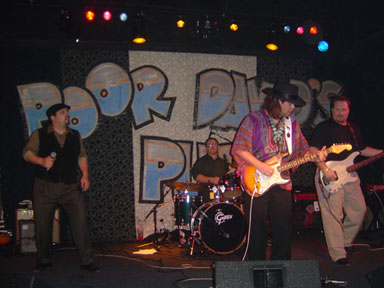 Voodoo Blue is a powerful tribute band, based in Texas, and dedicated to the memory of guitar legend and icon, Stevie Ray Vaughan. They work so diligently to reproduce his amazing sound and energy, that the similarities have been described as, "Eerie!" Check out their live show, and see if you don't agree!

Voodoo Blue has been performing in the DFW area since 2002. Highlights for the band have included a performance at Smirnoff Music Centre, opening for Lynyrd Skynyrd, and The Allman Brothers, a couple more at Texas Motor Speedway, sharing a stage with Johnny Lang at the Wildflower Festival, a few gigs at Texas Stadium, ABC affiliate WFAA - Daybreak morning show and Good Morning Texas, numerous KZPS - 92.5FM appearances for Clear Channel, 4 straight years at Grapefest, The Dallas Arboretum Spring and Fall festivals, as well as the Taste of Dallas, in the West End Marketplace.

Before you say anything, YES, we know that Stevie played guitar and sang. It's not an accident that we've divided the two parts. Remember, we're more concerned with the sound of the music, and it being played right, than anything else. That's what we all love and remember Stevie for - his music.

"VooDoo Blue made our party! They even let my husband join in! They were so courteous, talented, more than we hope for. Thanks!!!"
"The best Stevie Ray Vaughan tribute band I have seen." - Craig Hopkins - President of the SRV Fan Club
"The winner is.....Voodoo Blue!!!" - Bo Roberts The Bo & Jim Morning Show Lone Star 92.5 - Rockstock Battle of the Bands
"You have really captured the spirit of Stevie Ray Vaughan." - "Long" Jim White The Bo & Jim Morning Show Lone Star 92.5 - Clear Channel
"You guys have the SRV thing down!" - Randy James Producer - The Bo & Jim Morning Show Lone Star 92.5 - Clear Channel
Copyright © 2008-2013 Carol Marks Music, Inc.