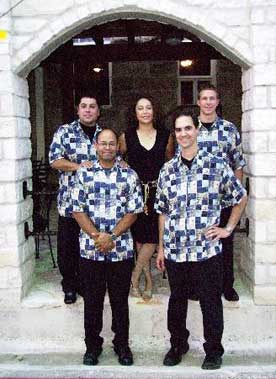 Travel the world with Cache and experience the vibrant Latin rhythms of salsa, merengue, cumbia, cha-cha-cha, bolero, samba, bossa nova, and much more! El grupo Cache has unique features that make it one and only. The distinctive sound of the marimba, female, and male vocals, and an original repertoire. Cache's band leader is Paul Blood (aka Pablo). Paul is an excellent percussionist and drummer. His passion for the Latin music has made him become an amazing musician. Paul plays several latin percussion instruments, but the unique sound of the marimba has lately captured his attention. The rest of the band members like Paul share the same passion for the Latin music. Cache is a very versatile group and it is able to perform as a duo all the way up to an eight piece group. Each combination sounds fabulous and gives Cache the ability to fit into almost any budget.
| | |
| --- | --- |
| Listen to Cache Instrumental Demo | Listen to Cache Vocal Demo |
"They were just perfect for the event, they created the perfect environment for our guests to enjoy themselves!"
Monty Worden - Brookhaven Country Club
"The group loved the entertainment! Great music!
Darina O'Dowd - Four Seasons Resort & Club
"Great sound! Nice group!"
Richard Owens, Hyatt Regency Dallas

Copyright © 2006-2013 Carol Marks Music, Inc.